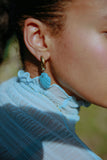 NOTTE
Shell We Dance Single Earring
$ 30.00
Gold plated thick tube hoop earring dangling with a genuine carved stone seashell. Made with beautiful natural materials, no two pieces are identical.
- Seashell charm carved from turquoise howlite, about 22mm x 22mm
- Tarnish-resistant 18k gold plated hoops
- Hoop outer diameter 22mm, inner: 12mm, thickness: 5mm
- Price is for a single earring


NOTTE Jewelry is the manifestation of late nights ideas and spontaneous thoughts that found their ways onto pages of designer Jessica Tse's sketch books. The brand's aesthetic is a fun mix of New York quirk with a hint of la dolce vita dreaminess. Pieces are designed and crafted in precious metals including sterling silver, brass and gold filled findings, with an eccentric mix of pearls, seashells and other unexpected materials.