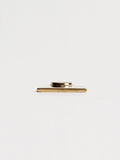 THE THINGS WE KEEP
The Things We Keep Brevi Earrings
$ 66.00
The sculptural Brevi Earrings haunt our daydreams. An instant classic, these studs remind us that the things that stay with us are the things we keep. A brushed gold plated finish contoured moon sits delicately atop a highly polished gold plated semicircle base for a subtly contrasting finish.
- 14 kt Plated Brass
- Studs measure 11/16" x 7/16".
- Handmade the USA.