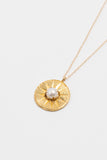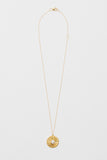 ALE BREMER
Poet Round Necklace
$ 150.00

- 14 K Gold Vermeil
- 6.7mm Round Pearl
- Measurements: 15" - 17" adjustable chain. Pendant .75"
From the Muses Collection. 
Ale Bremer is a jewelry designer born in the desert of northern Mexico - her jewelry is a nostalgic interpretation of the reflection of her culture. Ale currently lives between her studio in New York and in Mexico City where she goes to work with local artisans.