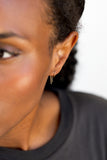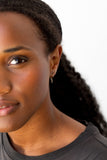 JACK + G
Loopdie P Earring
$ 24.30
Jack + G Loopdies are the next modern earring must-have. The P shape lets the metal loop rests on your ear to create a sleek and clean look.
DETAILS:
-Available in 14kt gold or silver
-Sold as a single
-Made in NYC
JACK + G is a design studio from Brooklyn, New York that fashions fine jewelry. From their home workspace in Bushwick, Jack Danziger and Gretchen Anderson have put their skills in design, engineering, and diamond grading to the test.