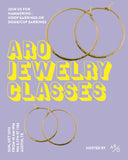 ARO CLASSES
Intro to Hammering - Earrings Class (Hoop or Disc Earrings) Sunday, Oct 13th
$ 80.00
Join ARO for a series of jewelry making classes with master jewelers and designers.
Learn the basics of hammering metals and make a pair of hoops or disc earrings. You pick!
What is hammering metal mean?
Hammereing is a technique used when making jewelry to distress metal, or create a bent, wavy, or flattened effect. Hammering hardens wire and can shape and add texture to it.

This class is on Sunday, October 13th from 10 am - 1 pm.  Each class will vary but this class will run three hours, all metals/tools will be provided and mimosas will be served. 
This class is being taught by Martha Soto, a master jeweler, and teacher.
Only 8 seats are available! Please select local- pick up at checkout. 
If you have more questions feel free to email us at info@shop-aro.com. Please note, all classes are exchange or store-credit only but you must notify us 48 hours before the class.