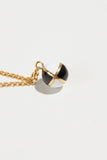 ARO
Checkered Sphere Bracelet - Black + White
$ 142.00
The ARO checkered sphere bracelet draws inspiration from the traditional Mexican Chime Necklace. The original chime necklace is a tradition used as a means of establishing a bond between the mother and her unborn baby.
Utilizing the technique of the traditional Mexican chime. Our design of the sphere incorporates an updated checkered pattern, which has been meticulously hand-painted using resin.
Note* The sphere is hallow, sized and light enough for everyday wear. 
- Sterling silver base
- 24kt gold-plated silver
- White and black resin
- 7 1/4" chain length 
- Made in Taxco, Mexico